Welcome to the Film Cigar Club, the private lounge of World Luxury TV™. It's the place where luxury and the art of living come together in an Old Jazz atmosphere. Our lounge offers an unparalleled experience where you can savor quality cigars and exceptional drinks in a comfortable and intimate setting, with a beautiful terrace that will delight you…

Famous Figure Live is a dedicated and exclusive show for NFT holders of the Famous Figures Classical Hollywood Cinema collection. Immerse yourself in this unique experience reserved for founding members.
---
Mint
The Famous Figures Collection
Generative photo portraits of classic Hollywood cinema icons, created by Don Clai. These icons unlock virtual and IRL membership to the Film Cigar Club and its partner World Luxury TV™. Welcome to Famous Figures Live, an exclusive live television show for the owners of the 252 NFTs in the Famous Figures collection. Your NFT contains locked content, accessible only by its owner. The contract creator takes care of updating them with content provided also by the community, thus reinforcing the intrinsic value of your NFT. Members enjoy airdrops, interactions with special guests, bold shows, as well as the opportunity to become speakers, reporters, create their own shows, and participate as actors in the cinematic adventure initiated by the community. Each member, wherever they are in the world, will be able to express their talent, passion, and creativity, or that of a friend, simply by using their smartphone or webcam to go live on the Famous Figures Live show.
On Air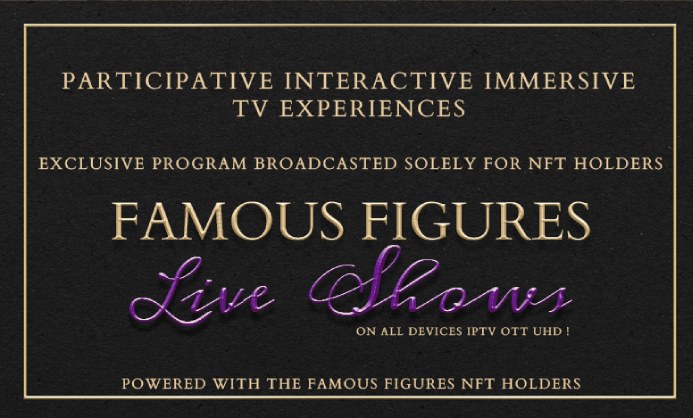 Watch now Famous Figures Live